Buy a Wreath and Help a Poor Struggling...Oh, You Got Me...Help John Allen!
Mood:
happy
Topic: General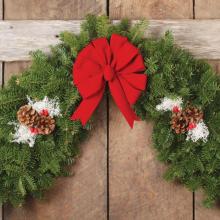 John Allen is at it again. He's selling Christmas wreaths from Wreaths of Maine! This is his fourth year selling and he loves doing it. These beautiful wreaths are made from Balsam Fir trees. But, they don't just sell wreaths, they sell swags, sprays...even roping for around your porch posts. They are great for decorating businesses, homes, or to give away as gifts.
The first year John Allen sold he donated his profits to help buy homeschool supplies for our family homeschool. Another year he (with a little help from us) bought himself a laptop computer. This year has been really special, he's been talking about all of the gifts he can buy for the family for Christmas. He's even mentioned the gifts he can buy for our pastor's twin boys.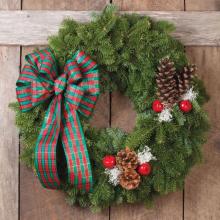 Wreaths of Maine is a company that primarily works with homeschool kids as a way to help them earn money. I found them when I was looking for something for John Allen to sell and make a little money on his own. I remember selling all kinds of things when I was younger - from Christmas cards to green mints. I learned so much from being a salesman. I really think it has helped John Allen build confidence in speaking to others as well.
We would love it if you would consider buying a wreath. Although we would like to be able to come to your house to tell you about them personally, we can't be everywhere at once, so this year Wreaths of Maine has made a way for you to purchase a wreath online and John Allen still get the credit. Just go to the Wreaths of Maine website by clicking here or on any one of the hi-lighted links above and look over their great wreaths. When you get to checkout, there will be a place where you can click on John Allen's name and seller number (4086). Thanks ahead of time from a proud father!
Powered by Qumana