Old Fashioned Service
Mood:
incredulous
Topic: General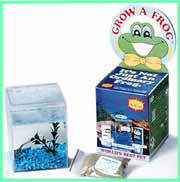 In this day and age it is hard to find a store or company that will give you old fashioned service. You know, the kind of service where the customer is always right and we will do anything to please the costumer. It seems that businesses these days don't realize that if you treat someone kindly and go the extra mile, then the customer will come back and recommend you to their friends. Recently, I have had to deal with one of those rare companies that treat people with respect and wanted to tell you about them.
I had a gift certificate from Vision Forum, so I ordered a "Grow A Frog" kit for the kids. You order the tadpole "habitat" and within the box is a postcard to send in for your free "see-though" tadpole from the Grow A Frog company. They warn you that it may take a couple of weeks for the tadpole to get here, especially if ordered close to a holiday. They also warn you to tell your postman to deliver it to your door and not leave it in a mailbox. I sent in the postcard right before Thanksgiving. I figured it would take a couple of days to get there, more than a couple of days to process because of the holiday and then a couple of days to get back to us. I mailed it on the Tuesday before Thanksgiving and we got back from grandma's house the Tuesday after Thanksgiving. I never dreamed the tadpole would arrive so quickly but low and behold what should be waiting in our mailbox? A poor, frozen, dead tadpole. Thankfully, the kids never saw it and we never told them. I was pleasantly shocked that the company was so prompt and knew that when I reordered that I would have to take that into consideration. They had a guarantee that if the frog arrived dead, they would replace it but I figured this was my fault because we weren't home to receive it and we had never warned the postman.
Well, with the busy holidays right upon us I forgot to call the company to reorder until last week. Joshua asked "Daddy, when is the tadpole going to get here?" and I thought "Oops". So I secretly got on the phone to the Grow a Frog Company. I knew that with the frog's demise being my fault and since it had been nearly two months, I needed to have my check card in hand. Another surprise! Not only were they kind and understanding, but they said they would send another tadpole as soon as the weather permitted.
It arrived alive today! We were so excited. We got the Grow A Frog habitat box out - only to find that Jacob had gotten a hold of it and broken it. Now we had a living "Taddy" and no habitat. Back to the phone with my check card. I explained the situation and asked if we could put our new pet in a canning jar until his new home arrived. They said not to do that and quickly explained what to do and said that they would send out a new habitat tomorrow - FREE OF CHARGE! Talk about being shocked! Those habitats aren't terribly expensive, but they aren't cheap either. I hadn't even ordered the original kit from them! This is definitely a company that cares about it's customers and knows what to do to earn more business. I had to tell you all about it. I know that most of you aren't in the market for a see-through tadpole, but if you ever are, I would recommend this company! You can order this kit through Vision Forum, or through the Grow A Frog website.
Powered by Qumana