Destination Disney - The Letter G
Mood:
lazy
Topic: General

I've been thinking a lot of Walt Disney World lately. For those of you who may not know, I began working at Disney fresh out of high school. It was my first real job! Well, it wasn't really "fresh" out of high school. I graduated, toured Europe with "The Sound of America" that summer, we moved to Florida in Sept./Oct. and I got the job at Disney in November of 1979. I ended up working there for nearly 14 years. I worked there before college, during college and then, part time, after college when I taught school. My dad retired from Disney.
As you can see, Disney means a lot to me. Unfortunately, for many reasons, I haven't been back there in nearly 10 years. I'm long overdue for a visit, and the time seems to be right. The kids are old enough to enjoy it, John Allen's been asking about it, so we are planning a trip in the Spring to Walt Disney World. Shhhh! Don't tell the kids. We are going to couple it with an also long overdue trip to visit some of our friends and supporters in Florida. AND...notice I said "spring"...right after tax return time!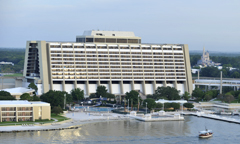 The Contemporary was the first Disney
hotel I ever stayed at!
Anyway, I digress. A good friend of mine, who just happens to be my TOS Homeschool Crew boss, is also a fan of Disney and has a meme on her blog called "Destination Disney". Recently she has been going through the letters of the alphabet and asking her meme contributors to think of favorite things at Disney World that begin with the letter of the week. This weeks letter is G and it's not too hard for me to think of things to write about. Here goes...
The Grand Floridian - The Grand Floridian wasn't one of the original hotels on the WDW monorail system when the park opened. It was built quite a few years later. But, it holds a special memory for me because that is where Sarah and I were officially engaged. I say "officially" because we were really all but engaged except for the ring. We had been planning our wedding over the phone for months. She in Tennessee and me in Florida. She was coming to visit for Christmas and I was looking for the special time and special place to present her with the ring. The Grand Floridian was it. After a wonderful meal at one of the great Grand Floridian Restaurants, we went out on to the Beach, sat down on a swing and I popped the question. Well it wasn't really a "popped" question, but you know what I mean. It was all very sweet and romantic until we heard a hiccup from over at one of those beach chairs that have a hood on it, and this poor drunk man says, in a very slurred voice, "Congratulations"!
A very early on picture of The Golf Resort.
The letter "G" also reminds me of The Golf Resort hotel. The Golf Resort isn't there anymore. Oh, the buildings are, but it's not called that. It's now called "The Shades of Green" and is a special resort for members of the military. For a while, I worked at the Polynesian Village Hotel in the shops there. Well, the same supervisors that were over the Poly shops were also over the shops at The Golf Resort. Every so often, maybe once a year or so, they would need a person over at the Golf Resort because someone called in sick, and I would head over there. The shops there were quiet compared to the Poly. It was always an enjoyable and relaxing time to work at the Golf Resort. And, you sometimes would even meet a pro golfer who was staying there. Those were good times and good memories.
Grape Juice - Now, you might be thinking "what in the world does grape juice have to do with Disney World?" Well, let me tell you. Growing you I was a country boy from a small town in PA. I didn't get out much and things pretty much stayed the same. I never knew that there could be any other types of grape juice other than the regular purple grape juice. Until my first trip to Disney World, of course. That's when David, my brother, and I came upon a Welch's Grape Juice stand in the Magic Kingdom. We tried red grape juice and white grape juice as well as the regular purple grape juice. It was a new thing and we loved it. More great memories.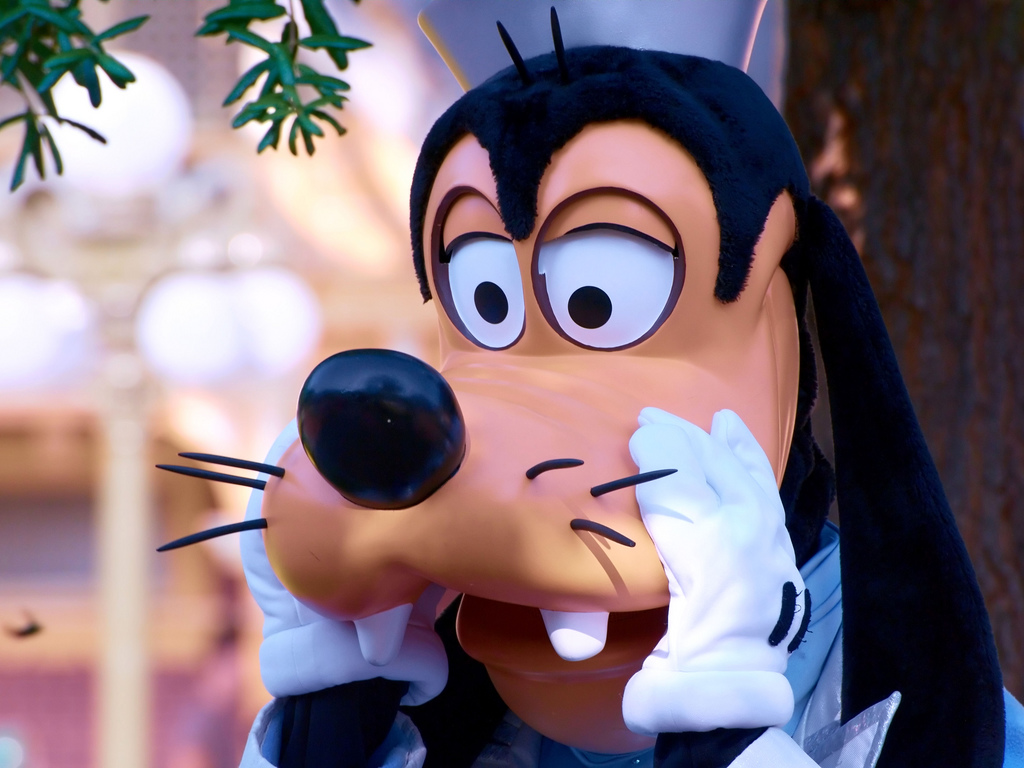 What "G" Disney memories wouldn't include Goofy! We loved Goofy. David even tried out for the part of Goofy one time, but, as anyone that has been to Disney knows, Goofy is often in shows and needs to dance. Needless to say, being PK's (preacher's kids) and being from a small town, neither one of us could dance very well so he didn't get the job. Still, Goofy remains one of my favorites. I enjoy seeing him whenever we go to the parks.
I'm sure I could go on and on with "G" things at Disney World that bring back fond memories, but four is enough. Besides, I need to save some memories for H, I, J, K...well you get the picture. Happy Disney Memories and, remember...shhhhh...don't say anything to the kids!