I'm Blog Hoppin' to Walt Disney World
Mood:
happy
Topic: Blog Carnivals!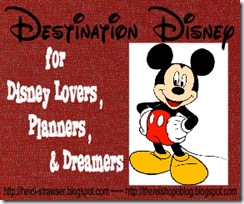 If you read my post yesterday, you know I've been blog hoppin' with "Destination Disney". This week's theme was the letter "G" and I wrote about four "G" things at Walt Disney World that were special to me. Well, I submitted my link into the Destination Disney blog hop page, but I forgot to share their link with you all! There's a bunch of folks that have already submitted their links to the Destination Disney page. Why don't you hop on over there and see what some of their favorite "G" things are at Disney. Just click on the Destination Disney banner above. BUT...not until you read my article first if you haven't already!