Why Fight the Crowds? Do Your Christmas Shopping Through My Affiliates!
Mood:
lazy
Topic: General
Instead of battling traffic, why not sit at your computer tomorrow and visit one of my affiliates. Many of them are having great sales! I've put up some new banners below, or check over at the bottom of my link column. All of my affiliates are listed right below the Compassion International banner. You can click on any of them, or on the banners below to check out all of the Black Friday sales that they have going on. Thanks for shopping! Have a Merry Christmas!
Of Course this would be the first one. Did you expect anything else?
Are you traveling this holiday season? Check out Family Travel Gear for some great travel helps.
Another Great site that has Christian gifts.
A Great Educational sites.
Of Course - The Old Schoolhouse!
A Great Educational Download Site with a big selection of FREE things especially on Black Friday!
And, don't forget John Allen and his Wreaths! Just click on the name to go to the site! When you order a wreath, you will see box where you can put John Allen's ID number. Please put #4086 in that box so that he can get credit for your purchase. Thank You!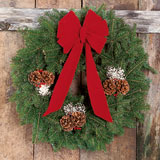 Powered by Qumana