Wreaths Of Maine - John Allen's at it Again!
Topic: The Kids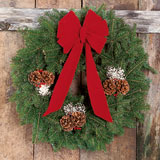 Last year, John Allen began his entrepreneurial career by selling Christmas wreaths with "
Wreaths of Maine
".
Wreaths of Maine
is a company that sells Christmas wreaths and primarily works with homeschoolers. He ended up earning over $60 from all of his hard work. This year, because of sickness and other difficulties, we haven't been able to do quiet as much selling but, he is giving it good try and hopes to, this week, make up for it. Last year he gave some of the money to us for Christmas. This go around, however, all of the money is going to him to put into savings.
This year, again, we are making him do most of the work and he is doing very well. He's memorized his spiel, learned how to fill out the order forms and paperwork, and is learning to be positive and persevere when no one seems to be buying.
He (and we) would love it if you would think about buying one. If you are interested, you can visit the Wreaths of Maine web site at http://www.wreathsofmaine.com to check out their products. Just enter John Allen's code #4086 where it is called for.
Thanks ahead of time. John Allen would be thrilled.