It's H Time at Destination Disney!
Mood:
happy
Topic: Blog Carnivals!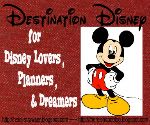 Last week I joined the Destination Disney Meme that was started by a good friend of mine. She's been going through the alphabet and having folks write (or take pictures) of things that they enjoy about Disney that begins with the letter of the week. This weeks letter is H. At first I didn't think I would have a whole lot of "H" things to write about, but after I got to thinking about it I realized how wrong I was. So, without further ado. Here are my favorite "H" things about Disney.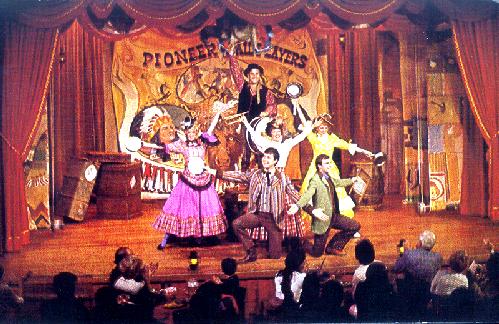 The Hoop-Dee-Doo Musical Review - I have been to a lot of the shows at Disney World. Each one of them has it's own flavor and it's own appeal. The Hoop-Dee-Doo has to be one of my favorites. I can't remember the first time I saw this show. It was years ago with my family. Good family memories are always special to me, and The Hoop-Dee-Doo will bring good family memories. There is something for all ages in this musical comedy, which includes a lot of audience participation. Seeing it is always a lot of fun, no matter how many times you've been there.
But, family memories are only one reason that I enjoy the Hoop-Dee-Doo. I've blogged many times about working in Adventureland in the Magic Kingdom and about working at the Polynesian Village Hotel. What most folks don't know is that I worked for one summer at Fort Wilderness Campground which is where the Hoop-Dee-Doo is located. I have many, many fond memories of working there. Fort Wilderness and the Hoop-Dee-Doo are special places for me.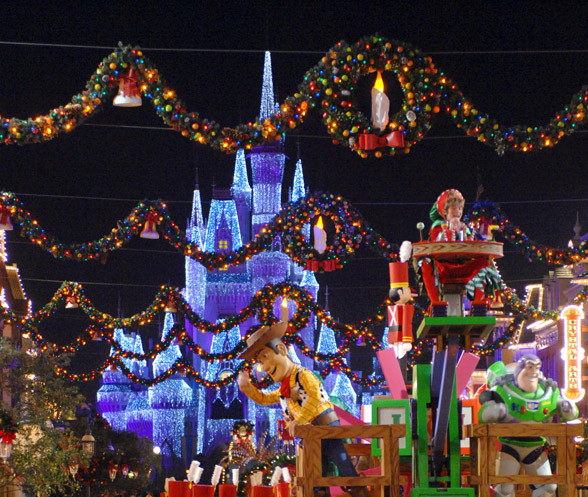 The Holidays at Walt Disney World - Now, this isn't a particular attraction or place at Disney, but a time of year. And, the time between Thanksgiving and New Years is a special time at all of the theme parks and hotels at Disney. It is something that everyone should experience at least once in their lifetime.
The decorations are beautiful, the special shows are fantastic, the fireworks are awesome, the parades are spectacular...there is really nothing like it. But, the thing that makes this time of year special for me is yet another family memory. I'm not sure if they still do it, but when I worked there, Disney put on a special "Cast Christmas Party" where they shut down the Magic Kingdom early and allowed only employees to come into the park. They treated us like royalty. Each year they gave us a special ornament or other Christmas decoration, and there was a place where we could go to get a free holiday family portrait made. There would be free snacks, the merchandise was discounted, and, there would be special restaurants open that served their food at special prices. Of course, there were several days to choose from. On the days that you didn't attend, you usually had to work. After all, someone had to "put on the show"

. Again, I have special memories of going to the cast Christmas party with my dad and mom and my brother. Later, after my brother, David, got married and moved away and I got married, Sarah would attend with us. We still have the ornaments and pictures. More, special, special memories.
My final "H" memory is kind of a cheat - Disney's Hollywood Studios. I say "kind of a cheat", because I remember Disney's Hollywood Studios as Disney-MGM Studios. In fact, when Hollywood Studios first opened, we got to go through it before it even opened to the public. Before any big park or attraction opens at Disney, they allow the employees to go through it first so that they can work out all of the kinks. Well, that's what they did with Hollywood Studios (Disney-MGM). This time, it was Mom, Dad, my nephew, Chris, and I (this was before marriage).
It was all new and fascinating to us. The restaurant concepts were/are really different and neat. From the Prime Time Cafe where "mom" actually serves you great home style meals in a 1950's style kitchen - complete with a TV showing '50's shows to the Sci-Fi Dine-In Theater where your table is a convertable and you are served by waitresses on roller skates while you watch hilarious clips from B-rated 50's sci-fi movies.
The new shows and shops were also amazing to us. Really, Hollywood Studios is a place and park of it's own.
But, as usual, my best memories of Hollywood Studios is with - you guessed it - family. When the park first opened, there used to be a place where you could "star" in your own movie. They would dress you up, you would rehearse a few times, then they would film it and you would buy the video. We still watch the "roll on the floor laughing" western that Mom, Dad, my nephew Chris and I put on.
A good friend of ours, PJ Finster, worked at "The Great Movie Ride" when the park first opened. The Great Movie Ride is a really neat concept where your guide actually becomes part of the show. It was fun to see PJ do some acting and brag to folks that we actually knew him.
Later, taking Sarah to Hollywood Studios was also special. We would have "date days" where we would go to the park for the whole day, eat at special restaurants and explore the park together. More special memories.
Well, those are a few of my favorite "H" places at Disney. You can see why they hold a place in my heart. Now, why don't you head over to the main Destination Disney site and check out some more "H" favorites by clicking on the websites of other folks who have joined in the fun. Just click on the banner at the top to get to the main site. I hope that all of the stories bring back special memories for you if you have been to Disney, and, if you haven't, I hope that they inspire you to go. It really is worth it. Happy Reading.