Have you met Yvone?
Mood:
a-ok
Topic: Compassion International
A few weeks ago I announced that we had decided to correspondence sponsor another child with Compassion International. Niyonsenga Yvone from Rwanda is our first girl. We haven't gotten our first letter from her yet, but, because of prayer and the love that God has already given us for her, she has become a part of our family.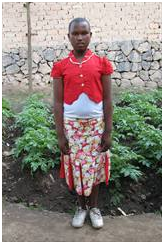 I periodically check out different websites to look for inspiration for my blog. If you have been reading Families Again for any length of time, you already know that YouTube is the place that I get most of the videos that I use from. Today I was checking out videos from Compassion International and, to my great delight, one of the most recent videos added was one about Rwanda, where Yvone is from.
So, without further adieu, here is Rebecca Saint James talking about Compassion's work in this African country.