Give a Friend a Goat for Christmas!
Mood:
a-ok
Topic: Compassion International
Not a real goat...well, someone will get a real goat but not your friend...let me explain.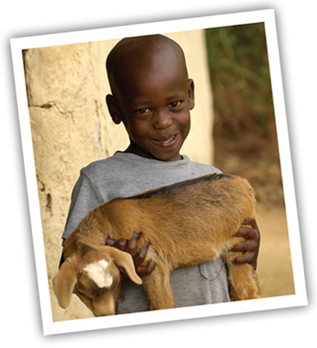 You know that I've been promoting Compassion International on my blog for some time now. I know that many of you would love to be involved, but just aren't able to financially support a child monthly. Well, here's a way that you can still help no matter what your budget is.
Compassion International has put out a catalog called the "Gifts of Compassion Catalog" where you can send a one time physical gift to a needy child or their family. They have items ranging from $10 to $5000. Like I said - they'll fit anyone's budget.
What did I mean about your friend getting a goat? Here's how it works. What you do is look through the Gifts of Compassion catalog by clicking here or on any one of the hi-lighted links. Then you pick the item(s) that you would like to purchase. In return, Compassion will send you a gift card along with information on how your gift will be used. You give this card to your friend explaining what you did in their honor. What's really neat is that the Gifts of Compassion catalog has suggested gifts to give to your friend along with the card. For the goat, you might give your friend (or family member) some goat cheese, a cheese cutting knife and the card that explains that you've purchased a goat to give to a needy Compassion International child's family. Isn't that a neat idea?! Of course, you don't have to give the extra gift, but it is a cool thought.
Like I said, they have all kinds of gifts for any budget. You can buy mosquito netting for $10 to help a child in a malaria plagued country. You can give $150 to help a child's father open up a car mechanic business. You can spend $500 to give a computer to one of Compassion's child development centers. You can even donate $5000 to help cover the costs of major surgery that some of the Compassion kids need.
There are loads of other things that you can purchase as well from soccer balls to farm equipment. After your money has been spent, you will get a report explaining how your money was used. Just click here or on any one of the hi-lighted links above to get to the Gifts of Compassion catalog. Thanks for caring and giving a Gift of Compassion this year.