Musical Musings
Mood:
lyrical
Topic: General

Knocking on the door of 50 (not quite my next birthday, so don't get any ideas) has gotten me thinking about middle age lately. I guess the many deaths (brother, brother-in-law, and father) and the changing dynamics of my family over the last few years have also made me meditate. One of the things that I have reflected on is the middle age crisis. I often wondered if and when I would have one. I haven't had it yet. At least not the "dress and act like you did when you were a teen" type. Maybe having young children takes your mind off of it. Maybe it will happen to me when all of my kids are grown. There is however one thing that I often reflect on and has always effected my emotions since I was very young. That thing is music.
I remember when I was very young, my brother, as a joke, would set me on his lap and sing this sad song that would always make me cry. It went something like this - "Sit upon my knee little Timmy". I know, I know, it sounds ridiculous now, but when I was two it was dramatic.
My entire family has always been into music. My parents both had beautiful voices and often sang duets in church. My mom played the piano and my dad played trumpet. My sister has a beautiful voice as well, and my brother also played trumpet in the band. Is it any wonder why I was in the band, orchestra and chorus growing up, and even majored in music for one year in college?
Still, today, music can bring me to tears or to laughter and certain songs can bring back long forgotten memories. Some of my earliest church memories are of singing "Climb, Climb Up Sunshine Mountain" and "This Little Light of Mine" in Sunday School, or of my mother, in tears, as the congregation sang "In the Garden" during a church service.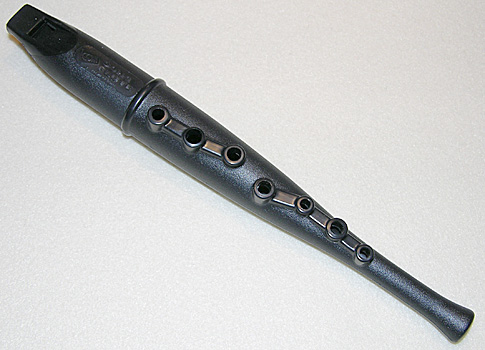 I still remember Miss Owens coming to our elementary school to go from class to class teaching music or teaching us how to play the "Tonette" (pictured to the left) - similar to a small recorder.
Middle and high school were where I really flourished musically. I was never very athletic. Music was always my thing. I played trumpet, piano, and organ as well as sang in school and church choirs. We had an excellent music program in the schools that gave great training.
I still recall sitting in Miss Bloom's middle school music class and singing along with some of the hit songs of the day. That still amazes me, because Miss Bloom was very religious and wouldn't even allow her students to use the word "gee" because she said it was a slang word for taking the Lord's name in vain (I still tend to agree, and shy away from using that word myself). The hit songs of that day were mild in comparison to the songs of today, but were still contrivercial for the time.
In high school, the head of the music department, Mr. Cugini, Mr "C", introduced us to all sorts of musical styles. We sang and played all types of music, and still today there are not very many musical styles that I don't enjoy listening too (or can at least tolerate).
More recently, since the boys got ipods for Christmas, I have been introduced to many of the internet sites where you can download any song or recording artist that you can think of. As well as songs for the boys, I have found some artists that take me back to my younger days.
Lately I've been listening to the likes of "The Carpenters" and "The Captain and Tennille". I still remember listening to "Love Will Keep us Together" on a vacation to Mackinac Island in Michigan. "Simon and Garfunkle", "Neil Sedaka" and "Carole King" remind me of the time when I had the measles and my brother, David, would put on a stack of his records for me to listen to while I was laid up in bed. "The Fifth Dimension" and "Jim Croce" take me back to the first albums that I ever bought.
I learned to love the "Beatles" and "Neil Diamond" while singing and playing their songs in high school band, orchestra and chorus. "Barry Manilow" and "Barbaral Streisand" also bring back high school memories.
Later, in my college days, was when Christian music really hit its stride. Some songs from "Amy Grant", "Michael W. Smith" and "Russ Taff" can still reduce me to tears. I branched out with Christian music. I even listened to "Petra" - considered very rocky in those days and "DC Talk" - originally a Christian rap group.
I praise God for all of the musical talents that He has given me, and all of the ways that he has used music to effect my life. It makes me more conscience of what I listen to and allow my children to listen to today. Music can effect your life for good and bad and shouldn't be taken trivially.
Ah, well, all of this remembering has me wanting to find my high school yearbooks and put on some of the music that I found on the internet. Maybe I'll even pull out my beaten up trumpet or look up some of my old piano music. I wonder where my band jacket is - does it still fit?
WAIT A MINUTE! Is this what a midlife crisis is? HMMMMMMM.....