OH! Lapbooks, schmapbooks! Who needs 'em!
Ok folks. That's just a catchy title to get you to read my post...or is it? For those of you who don't know what a lapbook is, let me fill you in. A lapbook is basically made up of two or three file folders put together. These file folders contain minibooks that center around one topic or theme. The whole thing can be held in your lap. Hence the name "Lapbook".
Still confused? Don't worry, you'll figure it out as we go along. I was confused as well until I saw a few. I thought that they were ingenious ideas and looked like fun to make, so I tried a couple last year with John Allen and Joshua. We attempted to make lapbooks based on the Olympics. I found John Allen's for free on the internet, and then did a simplified version for Joshua. The experience was OK. John Allen especially liked doing it, and Joshua humored me without too much complaint. We were open to trying it again, but had a couple of roadblocks. First off, once I made one, I realized that there was no way that I could be creative enough to do one on my own. Secondly, since we really couldn't afford to buy one of the great kits that various companies had for sale, another lapbook would have to wait until, well, one just fell into our laps (did I just say that

?) My impression was, OK, that was fun, but really, "Lapbooks, schmapbooks! Who needs 'em?".
Enter A Journey Through Learning. Boy am I glad that they decided to allow the TOS Homeschool Crew to review some of their products. I found out, in answer to my question, that we needed lapbooks. When you have one of those kids (like my son, Joshua) who's a visual, auditory, kinesthetic, hands on, learner, you find out that lapbooks are just the thing for them. I wasn't convinced with the first one that we did last year, but after using one of A Journey Through Learning's lapbooks, I am now more convinced than ever.
A Journey Through Learning was gracious enough to send us not one, not two, not even three or four, but five lapbooks to choose from to review. We only had to use one or two for this review and then we could keep the rest for later. Joshua and I chose to review their Reptiles Lapbook because it went along perfectly with another item that we are reviewing on the crew that you will hear about at a later date.
When you buy one of A Journey Through Learning's Lapbooks, they send you a full kit. Everything you need to do that particular lapbook is there - the study guide, the printed out templates, and, in some cases, even the file folders. They do, however, give you a couple of choices. You can use their outline and templates as starting points and do most of the research using books or the internet. Or, you can use their study guide which provides all of the information that you need. We chose the latter. Joshua isn't at the stage to do most of the research himself, and I need the structure of knowing what exactly to do and when to do it.
So far, we have learned about the three different types of reptiles and studied lizards, turtles, snakes and crocodiles including what they eat, how they defend themselves, how they look and more. We aren't quite done with our lapbook yet, so pictures of our completed lapbook will come later, but here is how the finished lapbook should look.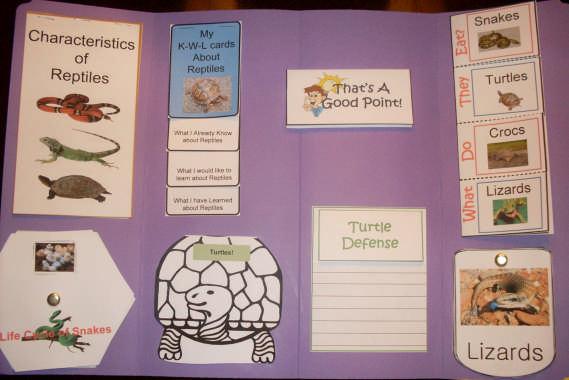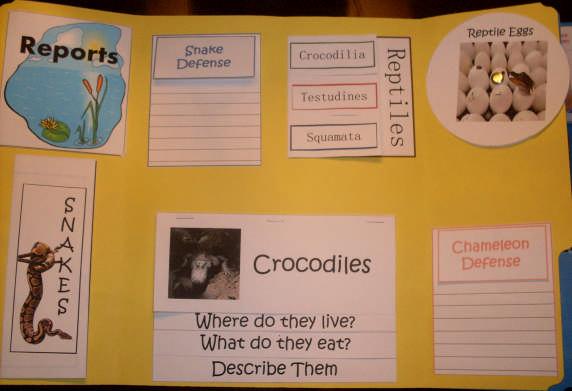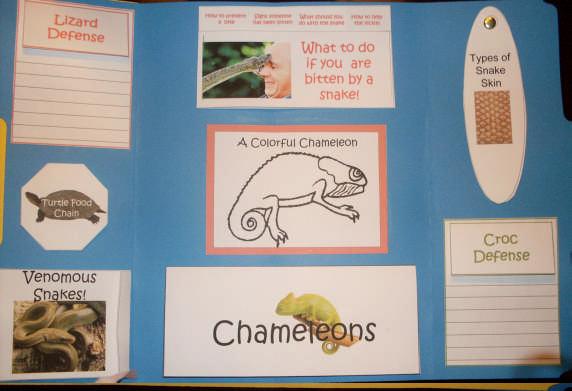 A Journey Through Learning has much more than science lapbooks. They also have history/social studies, holiday/seasonal, Bible/family, and preschool lapbooks. For those of you who might like to create your own lapbooks, they sell templates and organizers. For those of you who may not be into lapbooks at all, they also sell Unit Studies, copywork pages and notebooking pages. Their prices are quite reasonable as well. The lapbook that you see above, can be purchased one of three ways - Instant Download - $13.00, CD - $12.00 and Printed - $21.00. With the printed, you also get three colored folders, similar to the ones seen in the pictures. Other items vary in price.
Lapbooks may not be for everyone, but, so far they have worked for at least one of my unique learners. If you've not tried one yourself, A Journey Through Learning is a great place to start. For those of you who may not homeschool, why not look for one in a subject area that your child enjoys, especially if your child is a crafty type. They are great for home hobby projects and they would make perfect Christmas gifts! Remember, we are all home educators even if we aren't home schoolers. Have fun!