John Allen - The Entrepreneur
Topic: The Kids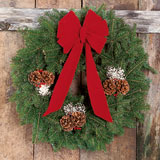 Like all good parents, for many years, now, I have told my children stories of how hard I used to work as a child. Recently I was recalling my days as a salesman. I used to sell Christmas cards from the "Olympic Card Company" (is that still around?), Greeting cards from "Cheerful House", thin green mints in order to go to day camp, strawberries for extra money during the summer, and all sorts of things as fund raisers for school and church. I became quite good at selling things, so much so that a high school teacher that I had wanted to hire me to sell first aid kits for his side business.
After all of my bragging...uh, I mean, recalling, John Allen decided he wanted to go into business himself. Enter "Wreaths of Maine". Wreaths of Maine is a company that sells Christmas wreaths and primarily works with homeschoolers. In order to receive the "intro kit", you either had to send in $10, or write an essay on what you would do with the money. John Allen's was short and simple. He would save some, buy a few things for himself, buy some Christmas gifts for his younger brothers and, get this, give some to his parents to help with the bills. It seems that JA had overheard Sarah and I having our monthly discussion on how to make ends meet and decided he wanted to help.
Needless to say, Sarah and I were very touched by this. We've decided not to steal his blessing, but to take whatever money he may give us and spend it for Christmas gifts. Probably from Vision Forum. So, ultimately, he will be getting most of the money anyway.
We are making him do most of the work and he is doing very well. He's memorized his spiel, learned how to fill out the order forms and paperwork, and is learning to be positive and persevere when no one seems to be buying.
So, if you are in need of a live Christmas wreath (they are really quite nice), and want to help with the Tinkel's bills, you can visit the Wreaths of Maine web site at http://www.wreathsofmaine.com and enter John Allen's code #4086 where it is called for.
Thanks ahead of time. John Allen would be thrilled.
Powered by Qumana