Vision Forum
Mood:
a-ok
Now Playing: Vision Forum
Topic: Favorite Links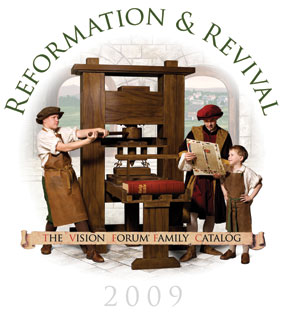 A
As I mentioned in my first post, one ofA the goals of this blog is to strengthen families. I can think of no better company that promotes family unity than Vision Forum. Vision Forum, Vision Forum, is a Christian company that not only promotes family values through its books, media, and toys, but also believes strongly in remembering the Godly heritage of our country.
Two years ago John Allen and I had the greatest time participating in the Jamestown400 Treasure Hunt. Vision Forum developed a very elaborate hunt that began with the "Mystery of the Vision Forum" catalog, that lead to secret websites and eventually a physical hunt in the Jamestown, Yorktown, Williamsburg triangle for the top 100 sleuths. Along the way, we had to solve elaborate codes and learn a slew of history that was all intermingled in a complex plot. We loved it! We were blessed to be in the top 100, but were unable to go to Jamestown for the final hunt. They have some type of hunt every year (although usually not as big as the Jamestown hunt)A and this year is no exception. It doesn't appear that this year's hunt is a big one, but we aren't sure yet! There's still time to get involved - why don't you order a free catalog and join the fun.
John Allen isn't the only Tinkel child that enjoys Vision Forum though. Joshua and Jacob love the special promotional videos they have for some of their products. Check out this one for their new remote controlled amphibious tank http://www.visionforum.com/hottopics/blogs/dwp/2008/10/4426.aspxA .A Anyone who wants to purchase that as a Christmas gift for the kids (especially little Timmy!) is welcome to have it drop shipped right to us!
Vision Forum also runs www.Behemoth.com where you can download Christian music, videos, audio books and more. They have specials daily where you can download something for free. Unfortunately, you need a credit card to register. Sarah and I tore up our credit cards a few years ago so we haven't been able to take advantage of any of the freebies yet.
Of course, most companies aren't totally perfect. There are some religious views that Vision Forum has that I don't completely agree with, but those are few and far between and minor. Check out their website and let me know what you think. If you should decide to order, I am hoping to become an affiliate soon, so please use the link on my page before ordering. We could always use the extra money.