Today was a Red Package Day!
Mood:
a-ok
You've heard of "Red Letter" days haven't you? Well, today was a "Red Package" day! To be more specific, it was a RedEnvelope day!
Got an email from a great men's blogging forum called Dad Blogs. RedEnvelope had contacted them about some men bloggers possibly blogging about some of their products. They had some qualifications that we had to meet, but, if met, we were told that we could pick any item from their website worth up to $75 to receive and review. After looking at their website, choosing a product and sending in my information, Families Again was chosen as one of the blogs! Two days later, I received a box from UPS.
Now, let me tell you, this box looked like an ordinary cardboard box on the outside, but, when I opened it up, I got the shock of my life! I had to take some pictures to share with you: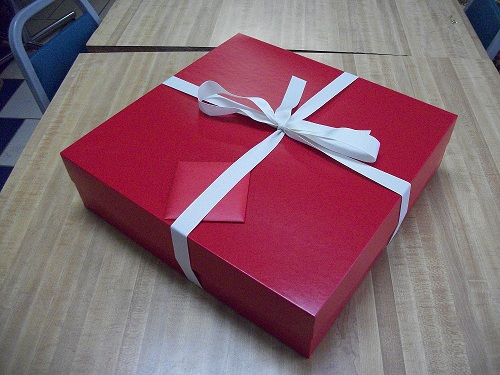 What company wouldn't you like if they sent their products in boxes like this? But, really, though, the proof is in the pudding. Any company can make anything look good in the box, but, is the product inside a quality product. Well, first let me show you what was inside:
"Okay", you might be thinking, "What is this marvelous item that Tim requested?" Well, it's something every man needs. It's something that would make a fantastic Father's Day gift. It's something that would be very unexpected. It's something that is very well made. And, it's something that would even make the wife happy.
All right. Hold your breath! It's a...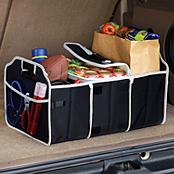 Car Trunk Organizer!
Now you might be thinking, "I could never buy a Car Trunk Organizer for a Father's Day gift for my husband." But why not? All men need help organizing. They may not admit it, but they really appreciate all of the help that they can get. And this organizer is really cool. It is fully collapsible, but when stretched out to it's full length, it's 23" x 12" x 14"H. It has three nice size compartments that will carry almost anything, and it has two mesh pockets on either end for your maps, flares, etc. But, that's not the best part. It comes with a cooler that fits into any one of the compartments. You can load up your organizer and take it on picnic, a fishing trip, a trip to the beach, a vacation, or just leave it in your trunk to organize all of the little odds and ends that you carry around with you every day. It has two handles on either end that make it very easy for carrying.

I can't wait to use it for traveling with the kids. We always end up with toys and souveniers all over the place by the time the trip ends. Our Car Trunk Organizer has three compartments - one for each boy. They can carry their toys in their own compartment and they will never get lost or clutter up the floor of the car!
And it's going to be terrific on our trips to the lake for a picnic and a swim. We can carry the food in the cooler, the bathing suits and towels in one compartment and all of the beach toys in the other!
What about our homeschool field trips? We can carry books in one, snacks in the cooler and ... I need to hush up now or I'll have to buy three more of them!
Now, you know that I have always been honest when reviewing a product. I wouldn't tell you I was excited about something if I really wasn't. I'm excited about this. It really is quality made, and I really can think of tons of ways to use it. I know that your husband can as well.
I just recieved this today, and haven't had time to really try it out, but wanted to get this post up so that you all would have plenty of time to purchase it before Father's Day. When I load it up with our own stuff, I'll post more pictures. The Car Trunk Organizer sells for $49.95 and comes complete with the cooler. The red box wrapping is $9.95 extra, but I was really impressed when I opened up the package and saw that red box with a white ribbon and gift card. I know any dad would be as well.
I am really impressed with RedEnvelope's service and products. To check them out, just click here or on any one of the hi-lighted links above. I know that you won't be disappointed. Neither will your husband! Happy Father's Day!

RedEnvelope extended an invitation to the members of Dad Blogs to review and blog about their products. I was sent their Car Trunk organizer to try out and review on my blog. No other compensation was given. The above review is my honest opinion of the product.